Synagogue in Spitalfields unearths long-lost velvet cloth richly embroidered for Queen Victoria's
diamond
jubilee in 1897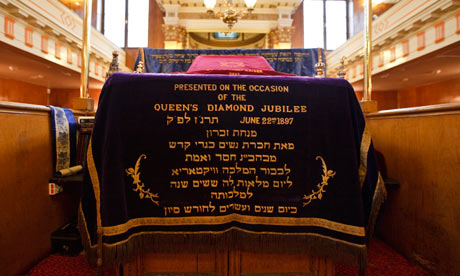 However, one unpromising box did hide a real treasure: a superb purple velvet cloth embroidered in silk and gold wire, paid for by the women of the community to celebrate the last Diamond Jubilee, of Queen Victoria in 1897.
The synagogue is so hidden away in a narrow lane that even people working a few streets away are unaware of its existence. It was built in 1766 as a Huguenot church, then a chapel, but it had become a lockup store when the founders first rented it in 1854. They then bought the freehold and ingeniously adapted the building to align it towards Jerusalem while retaining a remarkable amount of the Georgian interior.
A £400,000 restoration of the roof and interior was recently completed with major grants from English Heritage for the Grade II-listed building, after the discovery that bomb damage from the Blitz had shifted the roof timbers so that they were resting only on decaying plaster.
There are more spectacular textiles than the embroidered jubilee cloth and also archives awaiting conservation and display.
"The building looks beautiful again now, but it needs a new life, a new purpose. The truth is that the writing is on the wall for Sandys Row unless we find that."
Freedman, who wants more people to share in the building's rich Jewish past, fears that the Jewish contribution to East End history is becoming largely forgotten.